ShareThis
ArchPaper & City of New Rochelle quietly updated the Armory competition website due to the vigilance and pressure of New Rochelle Citizens, after they were exposed for a complete lack of transparency for a public competition to re-design a public asset.
Since the news broke that United Veterans of New Rochelle / Save our Armory Committee and Shop Architects were eliminated from the Armory re-design competition many of us have written emails, blogged and contacted our elected representatives, along with the "person in charge" of the competition Professor William Menking of Pratt institute and founder of ArchPaper. We sought answers to many concerning questions and vagaries surrounding the entire competition process.
It appears as though this has prompted a reaction in an attempt at damage control and FINALLY the names of the jurors and 6 "basic principles" as criteria have been released (better late than never ??).
The Jurors are:
James Fleming
Bennie Giles
Abby Hamlin
David Kapell
Greg Merchant
Signe Neilsen
Robert Rogers
Chris Selin
The "basic" criteria (for a complex multi-million dollar renovation project) was:
1)Encourage redevelopment of this unique property and highlight its distinctive waterfront features and the structural elements of its significant buildings.
2)Activate a currently underutilized site for the benefit of the public's enjoyment.
3)Complement and enhance the ongoing revitalization of the New Rochelle shoreline.
4)Honor the site's heritage.
5)Exhibit architectural excellence.
6)Provide development feasibility.
This information comes almost 2 weeks AFTER they selected the 12 as of yet unknown "firms" that won the first phase of the competition, and 2 months after the competition was announced. The fact that these firms and their designs are unknown as they move to phase 2 is a major problem.
This Friday on August 23rd they are scheduled to take a tour of the Armory so citizens are encouraged to keep an eye out for them to see who these mystery designers are.
It should be noted that not one of the Democratic council members, nor Mayor Bramson, nor development commissioner Luiz Aragon, nor professor William Menking have responded to any emails on the subject. Mind you we pay all their salaries with the exception of Mr. Menking...well maybe...
There has been no response or acknowledgment as of yet to my FOIL request to City Clerk Benny Giles. With all due respect to Mr. Giles and his service to our country, this is a HUGE conflict of interest as he was cited as the veteran on the jury but he works for the city government.
Mr. Giles placement on the appointed jury appears to be an attempt to stop any real information from getting out to the public since all requests for information must go through him.
The changes with the information about the jurors and criteria were added to the about section of the Waterfront Gateway Design Competition website in an attempt to sneak them through without the public noticing they were never there to begin with. As the Screen shots below will show (Click on thumbnail to enlarge).
As of August 16th: 57 Days After Competition was announced. 1 Week after Phase 1 winners?? "announced".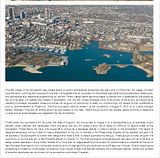 As of the August 21st: 61 Days After competition begins. 12 Days after Phase 1 winners?? chosen.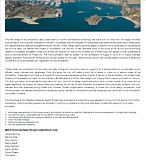 There still remain many unanswered questions like:
1) How was Professor Menking hired / appointed to lead the competition? Is he being paid? where did he come from?
2) Now that we know who the jurors are, how were they appointed? why is the newly published list of "jurors" different from the original list that Council members received in July? Why were substitutions made? Who made the substitutions?
3) Where are all the designs that were submitted? what were their grades? How did they compare to each other? How were the winners and losers decided? Vote? Consensus?
4) Why weren't members of the public invited to observe the jury deliberations. Why was it done in secret?
5) Why did it take so long to update the website with information that should have been there day 1. Why weren't the winning designs added to the site? Why was the update hidden and there is nothing new on the home page of the competition?
Please feel free to email the following elected representatives and city employees with these questions and tell them how you feel about being played for idiots,how you feel about secret competitions, with secret firms , and secret deliberations away from the public eye. They say that the winning designs were selected by a blind selection process, but the only ones who have been blinded in this process is the public!!
By the way the winner of this "competition" will receive $5,000 as a "prize", probably paid by you from your taxes, unless mayor Bramson plans to give them some of his Forest City campaign contributions!
Noam Bramson: NBramson@ci.new-rochelle.ny.us,
Noam Bramson: nbramson@optonline.net,
Barry Fertel: bfertel@newrochelleny.com,
Ivar Hyden: Ivar@ivarhyden.org,
Ivar Hyden: ivarhyden@backstreetgallery.com,
Ivar Hyden: ivarhyden@verizon.net,
Jared Rice: jared@jaredrice.org,
Shari Rackman: rackmandistrict6@aol.com,
Luiz Aragon: laragon@newrochelleny.com,
William Menking: wmenking@archpaper.com,
William Menking: wmenking@pratt.edu
William Menking's phone at Pratt (718) 399-4340.