County Executive Rob Astorino Receives Warm Welcome at New Rochelle Town Hall Event.
October 01, 2013 - 22:03
4 comments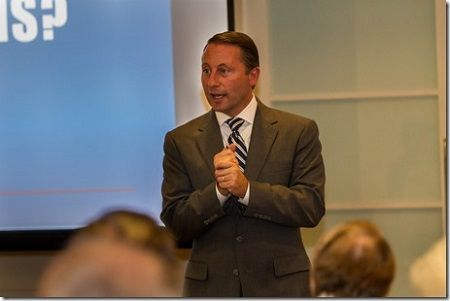 Photo Credits: Jen Parente
New Rochelle, NY—Last Night County Executive Rob Astorino stopped by the Radisson Hotel in New Rochelle to speak at an event hosted by Concerned Citizens of New Rochelle. The event drew out over 80 people from across the city who came to hear him set the record straight on his accomplishments and on the misleading statements that have been coming from New Rochelle Mayor Noam Bramson's Campaign.
Notable members of the audience included Former Mayor Leonard Paduano, Former Democratic State Assemblyman Ronald Tocci, County Legislator Jim Maisano who introduced Astorino , Councilmen Al Tarantino and Lou Trangucci, Former Councilman Richard St. Paul, and Mark Lee McLean of the Westchester county Human Rights Commission.
County Executive Astorino focused exclusively on his record and  issues related to the role of County Executive. In order to distract from his less than glorious record in New Rochelle; Mayor Bramson has been attempting to make the race about divisive national social and cultural issues that have very little if at all to do with the role of county executive.  
The presentation made by Astorino explained how the county funds are managed, how last years bi-partisan budget was created, and how they have been able to reduce the tax levy on tax payers while preserving essential services. He explained how the county is helping municipalities do more with what we have by the "Shared Services" initiative. There was also focus on Environmental issues and the Westchester County "Safer Communities" initiative which was started in response to the school shooting in Newtown, CT.
One of the strong points of this initiative is that it addresses the underlying cause of the problem, which is mental health. This is something other elected officials have barely touched in favor of knee-jerk reactionary laws, that do little to nothing in addressing the problem. Keeping our children and our communities safe is something the county executive has taken very seriously during his time in office.
Controversial issues that were discussed were the ongoing battle between the county and federal governments on HUDs new zoning mandates. Astorino explained how the county is way ahead of schedule in building the 750 units of affordable housing mandated by a settlement agreed to by his predecessor. He stressed that the federal government was using Westchester as a test case for the rest of the country, and that the push for centralized zoning control from DC was about bigger federal power, and not discrimination.
He mentioned that Westchester is right  behind the boroughs of New York City as the most diverse county in the state, but the factor that most greatly effects a municipalities diversity is income. Zoning laws only restrict what can be built not who can live there. Several studies have found no evidence for the Federal Governments accusation of exclusionary zoning. When asked a question on his position about diversity, executive Astorino said that he takes great pride in Westchester's Diversity and that discrimination has not and will not be tolerated by him and his administration.
Another hot button issue centered around the County Gun show and Mayor Bramson's despicable attack ad which insinuated that Rob Astorino was responsible for the deaths of children.  Astorino was asked by a member of the audience to clarify the issue. Astorino said that the show was the most attended out of any event they hold at the county center, he stressed that the show was operated in coordination with local, county, and federal law enforcement. There were both uniformed law enforcement officers and undercover officers patrolling both the inside and outside of the shows.
Despite his opponents false assertions there has never been any violation of any law both state and federal that occurred at the White Plains Sportsman Firearm and Knife show. Several residents also gave personal testimonials to this fact, and condemned the New Rochelle mayors tactics and praised Astorino for staying focused on the root cause of gun violence which is criminal activity and untreated mental health issues.
At the end of the question and answer portion Rob Astorino hilariously exclaimed that he could not believe that the entire time no one had mentioned Echo Bay. New Rochelle Citizens at this point have had enough with Echo Bay and how it has been pushed on the people of this city despite overwhelming opposition.
Ronald Tocci then mentioned that it was the position of the county planning board that no one should be living adjacent to a sewage treatment facility. When he brought up the issue of the city Armory which is linked to echo bay, and the mayors attempts to thwart every effort to turn the building into a viable community center, Astorino remarked "So he's against you bringing money in, instead of giving freebies to developers."
The choice Westchester county voters will face this election is quite clear. Under Rob Astorino's leadership the tax burden which is the highest in the country has been reduced, our financial health has been protected,  essential services have been preserved and even expanded for our residents who are most in need of help.
New Rochelle residents have already witnessed and had to bear the results of Mayor Bramson's policies which is a city government that is in deep financial straights, mired in debt, downgraded credit ratings, thousands upon thousands of square feet of empty storefronts along Main street, North avenue, Avalon and Trump towers, and a dollar store retail economy.
Bramson's excuse has always been the 2008 economic collapse but 5 years later with other neighboring cities and towns flourishing, as well as bringing in development without tax rebates on the backs of tax payers, how long can he keep making excuses? Perhaps this is why Bramson has been so focused on injecting national politics into the race while Astorino has stuck to what actually matters.