ShareThis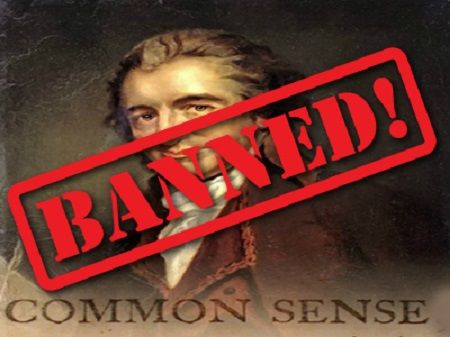 New Rochelle,NY—New Rochelle Mayor Noam Bramson, held a press conference yesterday on the steps of City Hall to make the announcement that he had located the source of the Tea Party in New Rochelle; Thomas Paine Cottage. Bramson also announced that he would be seeking help from Federal Government exorcists to rid the area of Thomas Paine's Ghost.
Since the end of March when New Rochelle veterans raised the Gadsden Flag over the Naval Militia Armory, Bramson has been on a Tea Party witch hunt, even enlisting the help of Westchester County Tea Party founder Giulio Cavallo. When asked why? Bramson stated "In order to find the Tea Party you need someone who can think like the Tea Party." When opposition to Bramson's Echo Bay project started mounting and The "No to Echo Bay" signs started popping up all over New Rochelle, the need to locate the source of this popular awakening became increasingly dire. The Echo Bay vote had been pushed back until after election day so that the Tea Party threat could be neutralized.
Today Bramson claimed to have finally pinpointed the source of inspiration for the uprising. Thomas Paine who's most famous work "Common Sense" inspired the American colonist to become the founding generation of revolutionaries, is now being blamed for Bramson's current troubles in New Rochelle. "Although Paine has been dead for over two centuries, his writings still exist as a source of radicalization and right wing extremism, his ghost has been known to haunt the area around his cottage where he once lived." said Bramson.
In a move that left residents stunned, Bramson ordered City Manager Chuck Strome to instruct DPW workers to cover the 100 year old monument dedicated to Paine and on which portions of his work were inscribed by New Rochelle's ancestors until the city has enough money to destroy it. Councilman Jared Rice backed the mayors decision by saying that he and many others in New Rochelle found Paine's politics to be "offensive".
The cottage and the closed museum adjacent to it will be gifted to Forest City Ratner for the newly announced Bramson lake development. When asked why the name of the lake was changed, Bramson said "it would be wrong for New Rochelle and Westchester to have any reminder of its heritage of freedom an republican government." Jacob's Leisler's statute will also be destroyed and a statue of Mayor Bramson will take it's place, the statue will bear the phrase "Progress is debt, Freedom is Slavery, Ignorance is strength".
Thomas Paine's Ghost was available for questioning at the cottage. When asked what he thought of Bramson's announcement of his pending exorcism he quoted a passage from his work "The American Crisis". Paine said:
"To argue with a man who has renounced the use and authority of reason, and whose philosophy consists in holding humanity in contempt, is like administering medicine to the dead."
Bramson countered by saying that was just what he would expect a dead Tea Party rebel leader to say and proves his point as to why Paine's insistence on the use of reason is so dangerous.
This article is purely satire, any resemblance to real people or real events was intentional. Hopefully it helps to illustrate how ridiculous the Tea Party accusations coming from the Bramson all year long have been.