ShareThis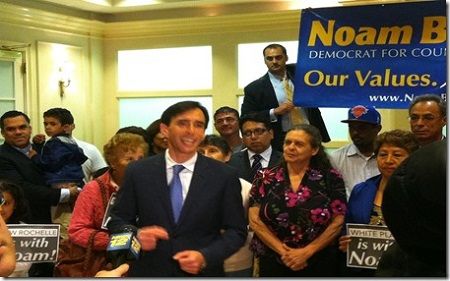 New Rochelle, NY-- Yesterday evening, Noam Bramson held a fundraiser at the Radisson Hotel. According to the New Rochelle Daily Voice it was billed as a rally for "Latinos United for a Purpose".  According to the announcement on Bramson's Website it was more of a fundraiser for "Women for Bramson" with Latinos thrown in for good measure. Martha Lopez who spoke on behalf of "Latinos United for a Purpose" is also part of "Women for Bramson" so it didn't take much effort to get this together. The purpose she united them for appears to be to give Bramson some points with the Hispanic electorate.
Based on my personal observations it appears as though the "Latino" aspect was just for a little "Sazón". If one could compare the "rally" to Hispanic food it would be considered bland at best.
First of all there was not a single sign or piece of literature in Spanish.
Secondly Bramson himself spoke in English; his speech was nothing unique but focused on the same tired campaign talking points on social services.
Sure having signs in Spanish and speaking in Spanish is a nice bonus if you can do it, but its the effort made that counts. There are ways one could show respect and a bit of effort on the part of the Bramson campaign would have been appreciated.
The group of about 50 supporters was mixed, with a slim majority being Hispanic. Several of the Hispanics who attended the rally were seen leaving before the fundraiser portion began.
I am a proud first generation American of Mexican descent and the son of a Mexican Immigrant. My mother Isabel Valencia,  has been an outstanding member of the New Rochelle community for over 30 years. We have strived to show this community the very best of our culture through various cultural arts programs she organized.
My family's roots in this city were established by the very first Mexican resident Antonio Valencia.
I find Bramson's blatant use of my people for political points shameless and despicable.
My childhood was spent in New Rochelle's West End. Throughout my life I have observed the face of that community change with a new influx of Mexican Immigrants. It has changed so much that even I feel a little out of place on the very streets I walked with my Abuelita. However, one thing has remained the same. That is the neglect of that area by the rest of the city and especially by Mayor Noam Bramson.
Hispanics on the West End are completely cut off by cultural, lingual and socioeconomic barriers. Mayor Bramson has done nothing to improve our quality of life or to bring this growing segment of New Rochelle's population into the larger body politic.
That last few months  I have been reaching out to people who still live in the heart of the West End, I was not surprised by the fact that hardly anyone knew that Mayor Bramson is planning on moving the City Yard, the garbage trucks, and all the contamination that goes along with it to their backyards.
Not once has he visited our community for a town hall meeting, to look us in the eyes and tell us face to face, how he plans to "improve" New Rochelle at the expense of OUR quality of life and at the health risk of OUR children.
Mayor Bramson along with Forest City was gracious enough visit the East End in June at a town hall meeting of over 200 citizens from across the city. When a show of hands was called to see what parts of New Rochelle were present, I was one of two people from the West End. It was depressing for me to say the least.
To be fair it's not all Bramson's fault perhaps his upper class upbringing and difference in culture prevents him from identifying with the common resident of the West End. After all there were probably not many of us in his "honors classes", and we most likely didn't sit on the same floor at the High School Cafeteria.
Maybe that's why last night's fundraiser was not held in the West End or why Bramson could not even give us our own event, but added us on to another one.
He could have made his campaign staff print up some damned signs in Spanish at least!
The state of affairs in the West End is also a failure of the self-appointed leaders in the New Rochelle Hispanic community, many of whom have spent years cozying up with Bramson and the Democratic Party machine to improve their own station, while neglecting the very people they were supposed to represent.
I have not seen ANY of these so called leaders raise a question at any of the public hearings on Echo Bay and the City Yard move; they have failed to even inform their community about the move entirely. The one exception to this is Councilman Lou Trangucci.  Lou has done his best to represent the interests of everyone in his district including the Hispanics who live there.
The New Rochelle Mexican and Hispanic community are in desperate need of a new generation of representatives. Representatives who will actually work to advance their assimilation into our larger community. This sentiment is shared among many whom I have talked to in these last few months while attempting to inform them of the actual trash that will be dumped on them because they are considered irrelevant. (except of course when Bramson wants their vote).
I would just like to end this blog entry with a comparison. I was honored to have been invited to attend the "Estamos con Astorino" launch at Don Coqui in White Plains last Wednesday. The difference in how the Hispanic community was treated at that event compared to Bramson's event was like night and day.
With Astorino we had our own special event. He was thoughtful enough to give us signs and shirts in Spanish.  Rob Astorino even spoke to us in Spanish!
The event was FREE to the ENTIRE Westchester Hispanic Community, this included food, and drinks. It was more a party thrown in honor of us than a political rally for him. The way we were treated said "thank you, you are appreciated members of the Westchester community". It was demonstrated to us by word and deeds.
(Noam on the other hand was looking to get money, at 50-150$ a ticket for those who were privileged enough to afford to eat at the fundraiser).
Astorino understood that in our culture we are not looking for handouts but just the opportunity to live the American Dream. We want to feel the self-worth and dignity that comes with achieving it on our own, because we can.
(Noam was selling the same snake oil, he's been selling the Hispanic community in New Rochelle for years, and anyone who wants to see the results is encouraged to take a tour of the West End.)
My advice to my fellow Americans who identify as Hispanic is this: pay close attention to differences like these, it will be obvious who really appreciates us and who is taking us for granted.Observe and recognize that many of the people claiming to lift our community are actually stepping on our heads as they lift themselves.
Politicians like Noam Bramson have taken our votes for granted for far too long. We are not fools Mr. Bramson, we can tell when we are being played. I for one will not allow you to degrade the dignity of my people by using them as a photo op for your floundering campaign.